Laval's #1 rust protection
Car pricing – $139.95
2 or 4 door car (for example Honda Civic).
Minivan, small to large SUV and 2 door truck – $149.95
This category includes :
4-door minivans (e.g. Dodge Caravan);
Small or medium SUVs (e.g. Honda CRV);
Large SUVs (e.g. Ford Explorer);
All 2-door pickup trucks. Small, medium and large (e.g. Ford F150, 2-door).
Extra Large SUV, 3-4 door pickup and full size van – $159.95
This category includes :
X-large SUVs (e.g. Cadillac Escalade);
3 and 4 door pickup trucks, excluding extra large, heavy duty and dual rear wheel pickup trucks;
Full-size or passenger vans (e.g. Ford E-Series van).
If you are not sure which category your vehicle falls into under Krown's pricing policy, please contact us.
ERRATUM
There was an error in our last mailing. Please note that our physical address is:
1615, boul. Saint-Martin East, Laval
At Antirouille Krown Laval, we are passionate about rust protection for passenger vehicles. Our company offers a wide range of products and services to help protect your car from rust damage. Specifically, we can apply a special coating that forms a solid, durable barrier between the bodywork and corrosive air. Antirouille Krown Laval is recognized as Canada's leading provider of corrosion protection application services for passenger vehicles. With a devoted team, our company ensures that your car stays in good condition and receive the best treatment possible.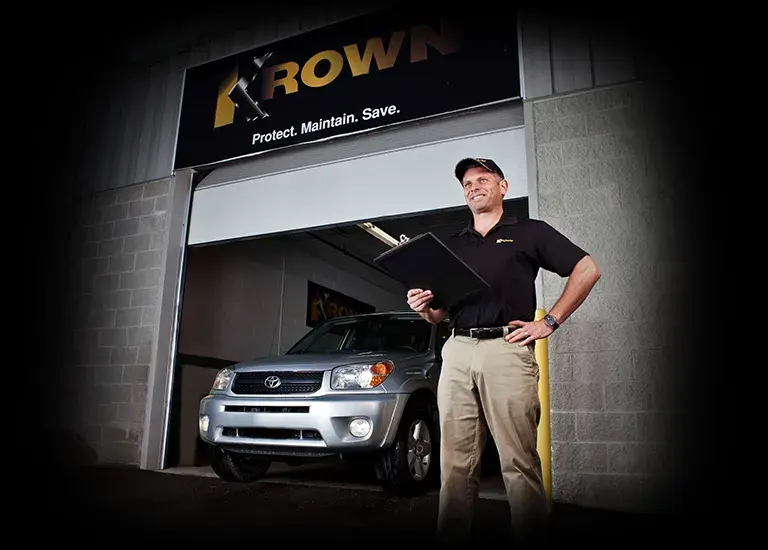 Here are some of the benefits of Antirouille Krown Laval's services:
Complete inspection of your car to identify potential bodywork damage;

Professional application of the most suitable protective coating depending on type and age of vehicle;

Durability and high level of corrosion protection provided up to 12 months;

Significant increase in product useful life;

Services designed to efficiently take care of small damaged surfaces;

Biodegradable latex to protect your floor from chemical splashes;

Annual maintenance programs to keep your car in top shape at competitive prices;

Free assessment so you can see the results achieved by our services.
By choosing Antirouille Krown Laval's services, not only will you protect your car from the ravages of rust, but also significantly increase its lifespan. So don't waste any more valuable time searching for a miraculous solution – trust Antirouille Krown Laval!
Visit us at 1615 Boul Saint-Martin Est, Laval, inside the Kia Vimont dealership and accessible via the drivethrough.